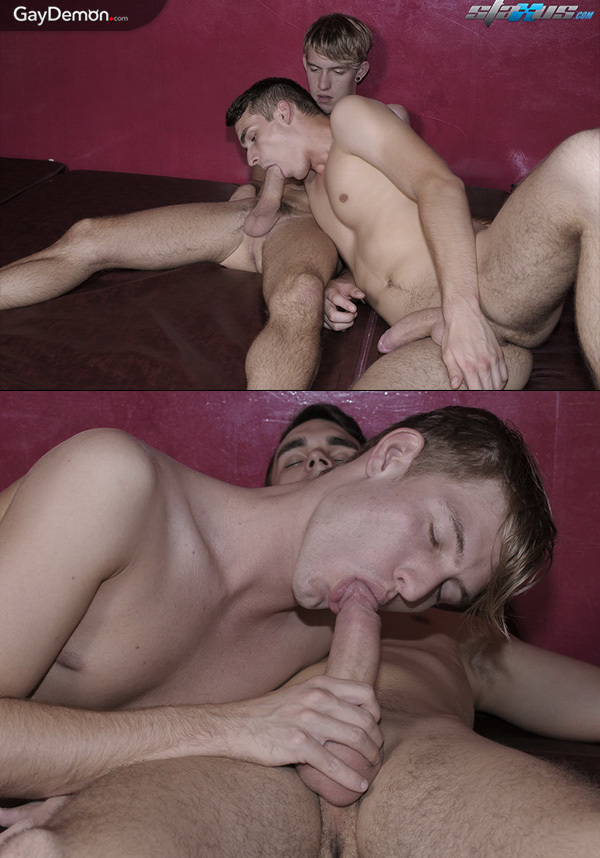 I only saw Jaxon Radoc for the first time on Staxus a couple of weeks ago, although he's filmed quite a bit with the European studio. Jaxon is a cute Aussie and I fell in love with his 8-inch, banana-curved dick, which looks very hot sliding into another guy's ass.
But like a lot of the guys over at Staxus, Jaxon takes his turn on the bottom, too. And he's paired up in this scene with Orlando White. And this Hungarian stud is beautiful with an uncut dick as well and it's only half an inch shorter than Jaxon's, but it's a little on the fat side.
The guys spend some time swapping blowjobs back and forth in this bathhouse scene before crawling into some 69 cock sucking action. Then Orlando pushes Jaxon's legs over his head and squat fucks him, stuffing his raw dick inside Jaxon's hungry hole. Orlando's dick has a thick piece of foreskin that looks wildly hot pushing in and out of Jaxon's hole. I got really turned on watching this Hungarian plunge fucking this blond bottom. After drilling Jaxon doggy style, on his stomach, then on his back, Orlando drills hard until Jaxon cums all over himself. Then the bottom opens his mouth so Orlando can blow his cum wad all over his tongue.