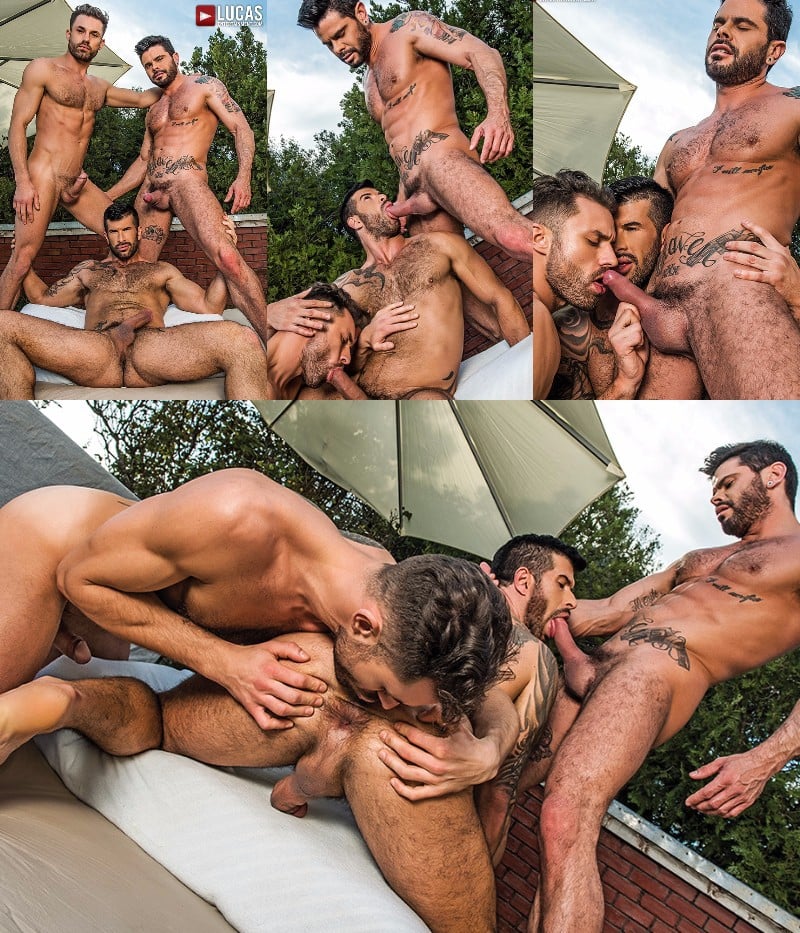 Watch this Outdoor Bareback Threeway at Lucas Entertainment
James Castle, Adam Killian, Mario Domenech fuck on a bed outside in a backyard somewhere in this latest scene from Lucas Entertainment. At first Adam and Mario pass James back and forth, but that just the beginning, by the end of this session everyone gets a dick in his ass.
This Mario Domenech's third scene with Lucas Entertainment, he filmed a gang bang last month. He's outpacing his ex-lover Antonio Miracle who did two scenes for the studio at the beginning of the year, but hasn't filmed with them since March. I always had a thing for Domenech, but I love dark-haired Mediterranean types and he's sporting a decent-sized uncut cock and furry legs, so what's not to love?
Back in September 2013, Lucas Entertainment filmed its first bareback scene, and in October they announced that Adam Killian had been hired as their new creative director. Killian directed a string of scenes, starred in a few himself, then he was gone from Lucas. He popped back late in 2015 after a six-month break, but didn't start filming regularly until April when he did two scenes. Now, he seems to be appearing in one scene a month. In total, Killian has been featured in 47 videos at Lucas Entertainment.
See more at Lucas Entertainment