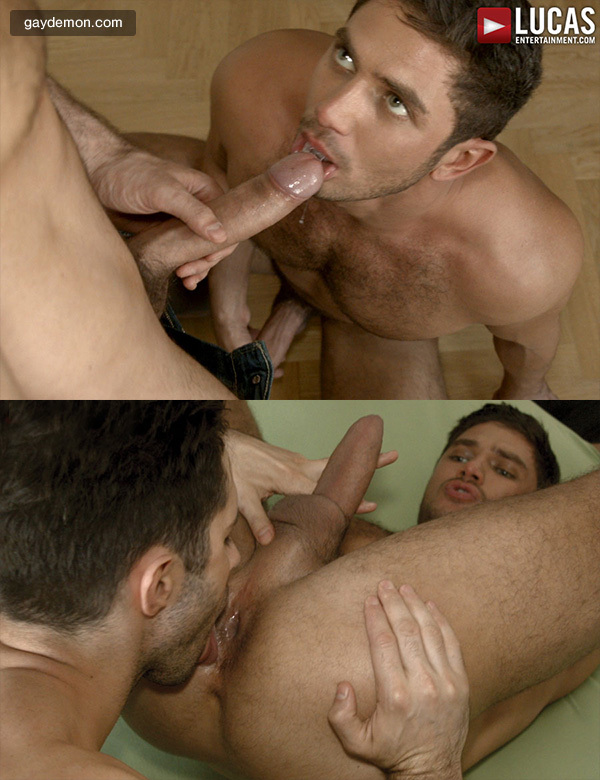 It's a daily double today for Dato Foland -- bottoming bareback in his first-ever scene and joining Lucas Entertainment as a new exclusive. This is also Foland's first scene with the studio, which I found rather surprising, and he's sporting longer hair. I liked Dato's close-cropped look, but I think this new hairy style is très sexy.
Michael Lucas tops Foland in his first scene. It's not surprising, Lucas often breaks in newcomers -- the prerogative of the studio owner -- and while I wasn't initially thrilled when I heard about this pairing, it's a sexy and passionate scene. Michael and Dato are gentle with lots of kissing, neck nuzzling, and head rubs. They go down on each other and Dato really enjoys Michael's mouth. Lying back on the bed, Dato hoists his legs and Michael gives his pucker a good work over with his tongue. After a couple of minutes, Dato pleads, "Please put it inside me. Cum in me." And not just once. He's really begging for those 10 inches.
And Dato does get what he wants. Michael Lucas slips inside Foland's tight hole, and after pumping for a couple of minutes, he pushes Dato's legs over his head and straddles him, then plunge fucks him. Michael was really excited to be inside of Dato because he blows his wad. But he continues fucking Dato for several more minutes and his jizz is oozing out of Dato's hole. Finally, Dato needs to unload and Michael sucks him off and eats most of his cum. This is a good start and I'm looking forward to seeing who Lucas Entertainment will be pairing Foland with next.
See more at Lucas Entertainment