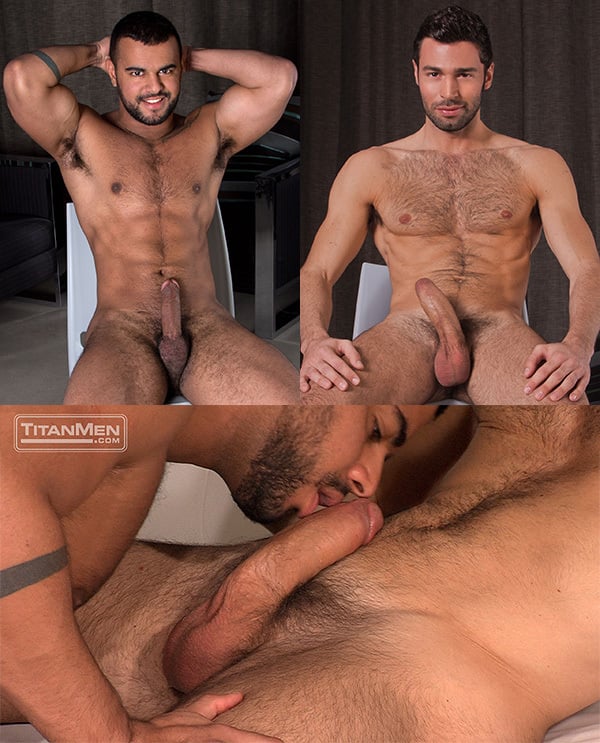 Back in July, TitanMen let Dario Beck out of his exclusive contract so he could move over to Raging Stallion Studios. And funnily enough, but Titan Men continues releasing Dario Beck scenes -- this is the fourth since Titan handed Beck over to Raging Stallion -- meanwhile Beck has appeared in three scenes for his new studio. Only in Pornland can "exclusive" not mean "restricted or limited to." We do make up our own rules, don't we? But TitanMen does often shoot a year in advance, remember when they released "Fast Paced" with Jake Genesis and Trenton Ducati well over a year after Genesis retired from the business?
This week TitanMen released a new series called "In the Shadows" with Dario Beck and Tony Orion. Aside from the exclusive bit, I also scratched my head at this pairing because while both Tony and Dario do top in the odd video, they're much more well known as bottoms. So I wondered who would be getting it in this one. But the good thing about casting a couple of bottoms together is that the cock sucking is generally pretty good. And these two don't disappoint.
If you like sword fighting, you know, guys swatting their cocks together, there's a hot sequence with Dario and Tony kissing and banging bones. Then Tony bends Dario over the white sofa and fucks his hairy ass. Dario rides Tony before lying on his back and the furry cub bangs the cum out of him.