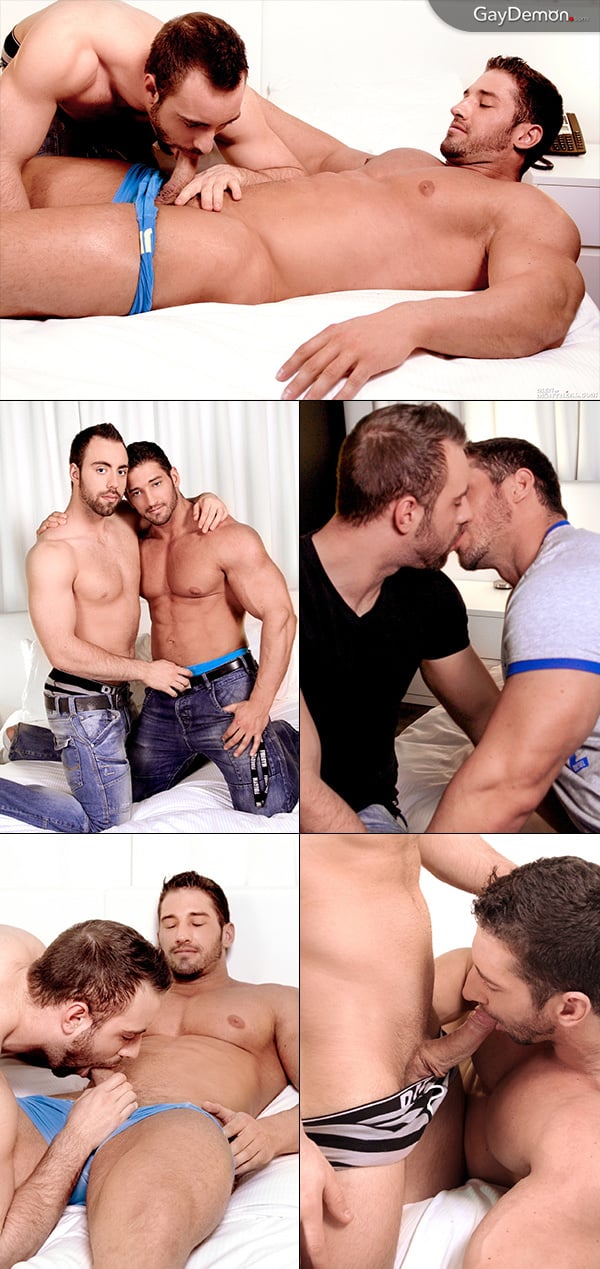 Alec Leduc has done six scenes with Men of Montreal, but he's always been a little nervous about bottoming. His bio says that he's bisexual, but he admits that before joining Men of Montreal most of his sexual experiences with guys involved jacking off together. But when he arrives for this session he announces that he was willing to give ass play a little try.
Christian Power is a handsome bodybuilder and he's gotten his ass fucked a few times on the site, in fact, filming for this site was a first for him, but he dove right now. So he offers to help Leduc get used to having something up his ass. Leduc wasn't ready for full on fucking, so Christian shoves some anal beads inside the stud's tight asshole. Alec did alright with the first couple of beads, but as they got increasingly bigger, he started to struggle, and eventually had to ask Power to ease up -- those bigger beads were just too much for his tight butt hole.
Power gets down on all fours and offers his big beefy butt and Alec gives him a hot rim job, then after sliding his stiffening cock up and down Christian's ass crack, he slides it inside and gives the bodybuilder a long, slow fuck. These horny Quebecois guys end by unloading all over each other's faces. And Alec Leduc left the set with a 9-inch dildo in his bag, so clearly he's going to work on stretching his ass. I'm pretty sure we'll be seeing him in a full-on fucking session soon.