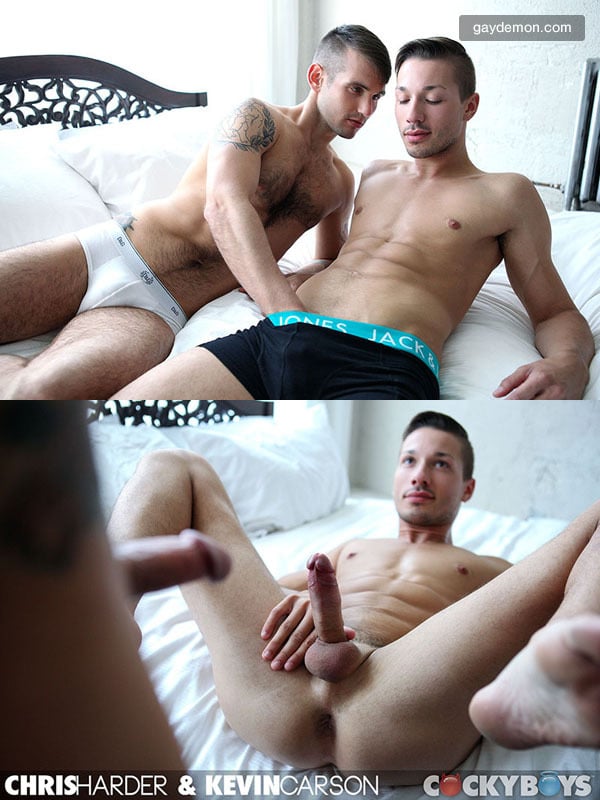 Chris Harder and Kevin Carson were extremely happy to be paired up together today in this new, scorchingly hot scene from Cocky Boys. The guys are both versatile and quite honestly, seem to get up to just about everything possible that one guy can do to another in bed!
Right at the start, Chris reckoned Kevin was probably the most beautiful French-Canadian hottie in the whole of Montreal; and Kevin was equally enamoured with Chris! They started off with some casual flirting, followed by some sexy kissing and not long after that they were both naked. Chris has a hairy chest, nice hairy legs and his cock is cut; while Kevin has a smooth torso, washboard abs and a fat uncut cock. Soon hands were roaming around, fingers were being poked into arseholes, rock-hard cocks were being licked and sucked - the guys got into a hot 69 and then Chris started face-fucking Kevin. Then he sexily licked his fingers, and while still being sucked off, fingered Kevin's tight arsehole, getting it ready for some anal action.
Then we see Chris has Kevin on his back, Kevin's knees are up against his pecs, while Chris is down below rimming his tight hole, getting it all slick and wet - then he slowly enters with his hard cock and starts plunging in and out as Kevin looks up into his eyes. We get some great camera views from behind too and get to see Chris's arsehole and pierced perineum as he plunges in and out of Kevin's butthole. Then Chris pulls out and admires Kevin's now stretched, open arsehole - before plunging back in and fucking it even deeper and harder!
Next it's time for the flip, and Kevin gets things started by using three fingers to prepare Chris's tight hole. Then he fucks his new buddy doggy-style while Chris moans and groans in ecstasy. Chris turns his head back over his shoulder to watch Kevin's face as he's fucking him, then moves his face up for a hot kiss, then the guys switch positions and now Chris is on his back as Kevin continues pounding his hole. Chris jerks off while being fucked and squirts his cum load all over his hairy belly and abs and then Kevin pulls out and does precisely the same thing ... a very nice cummy finish to one very hot flip fuck scene!