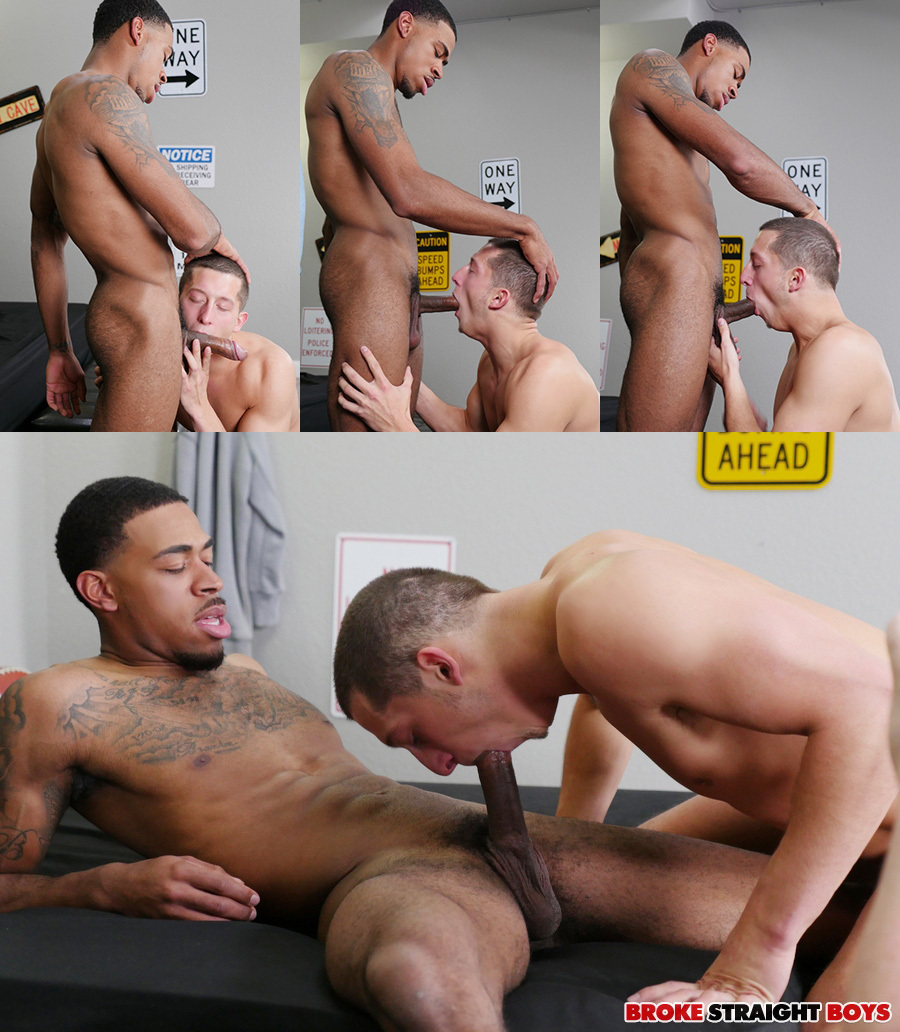 Drake Tyler has just started filming with Broke Straight Boys and this is his first bottoming scene, although it's not his first one ever and his second bottom session for BSB is already on the site. Brice Jones is also new to the site and got his first blowjob from a guy who he face fucked in the locker room. Now Brice is sticking his nine inches of uncut meat into his first guy butt.
Drake Tyler is no stranger to gay porn. He has over a dozen scenes under his belt and he was a regular at both Corbin Fisher and Next Door Buddies, so he's perfect to help usher Brice Jones into his first guy-on-guy sex session. And with a huge cock, Brice needs someone with experience, someone who is capable of taking a hung top. The producer tries bribing Brice with an extra $100 if he'll suck his first dick, but he's not ready yet. "I will fuck Drake though," he offers.
Drake holds Brice's heavy nuts and gulps his meaty cock down his throat. By the time Brice lies back on the bed, his bone is at full mast and Drake is struggling a bit, but still managing to swallow most of it. All the while, Brice plays with Drake's hole, which only gets the bottom hornier to feel this big dick in his ass. He bends over and Brice enters him doggy style. After a few minutes of fucking, Drake lies on his stomach and Brice drills him with deep, forceful pumps. Drake grunts and pants through it. Brice leans on both arms and thrusts hard and Drake is clearly feeling it, grimacing and almost tearing up, but he rises his ass off the bed nonetheless. What a trooper! And with a load of cum on his ass, Drake is grateful it's over.
See more at Broke Straight Boys