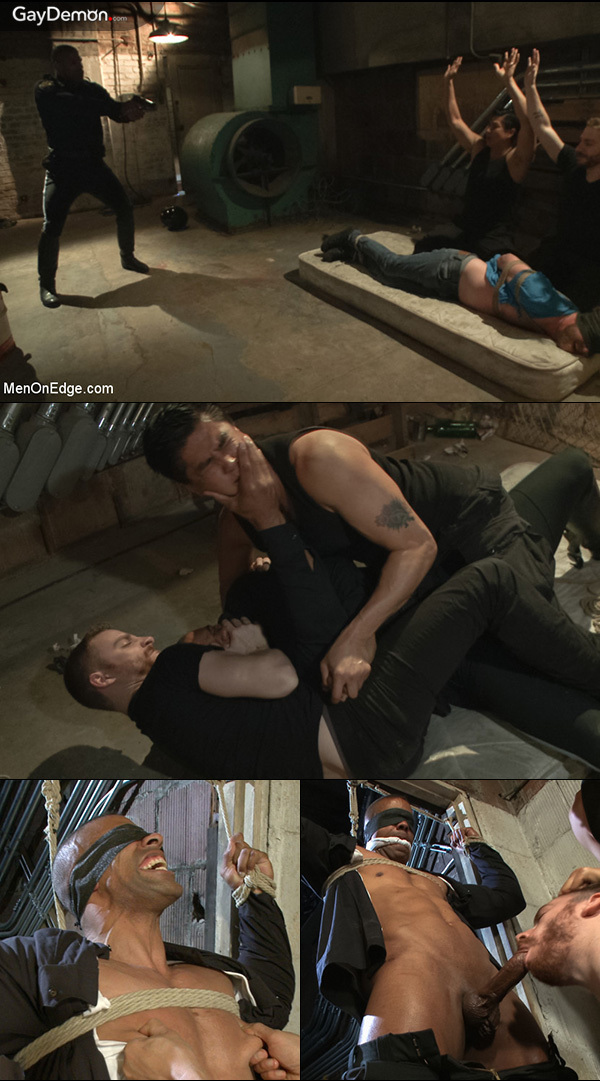 Sebastian Keys and Van Darkholme are having some perverted fun on a mattress with a guy they have stripped and tied up in a basement. It's going to be another nasty session at Men on Edge. But things take an interesting turn. Hearing the helpless stud's cries for help, police man Robert Axel bursts in with guns blazing. He orders these two men to let the guy go. Not the best decision Officer Axel has made today because Sebastian and Van jump the cop, wrestle him to the ground, and tie him up.
With this cop bound and helpless, these perverts rip off Axel's clothes and tease his cock rock hard. The officer struggles to try and free himself. But his dick betrays him as they continually bring him to the brink of orgasm. He loves and hates it all at the same time.
Now it's Axel's turn on the mattress and Sebastian and Van fill both of his holes with dildos. Finally they give Robert the release he's been begging for and he shoots his cum load all over himself. But they're not finished. They want to see what a pig Officer Axel really is and make him eat his own cum. And just show they meant no harm, they tickle him relentlessly before releasing him and running away.