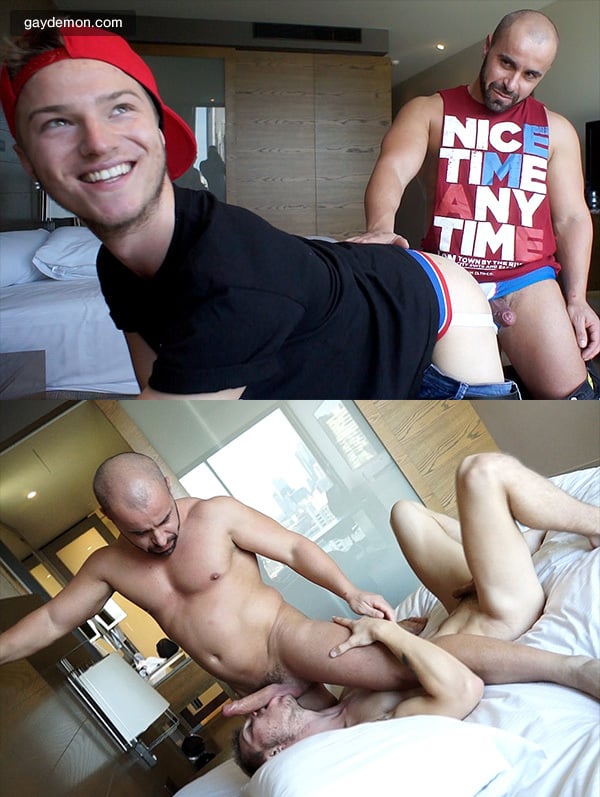 Marco Pirelli is one of my pinky toe fantasy fucks. That means that I'd let the gods cut off one of my pinky toes if they granted me an all-day fuck with Pirelli. The good-looking and scruffy-faced Italian hunk has a delicious uncut cock worthy of a very long and slow feasting session. He's one of the regular tops over at Bentley Race, so while I probably won't ever have the chance to bed him, I can watch him in any of his dozens of appearances.
This week Pirelli is playing with a newcomer to the site, a Melbourne native named Sarpa Van Rider. And while the two had met before, Sarpa is getting his first look at Marco's meaty dick when he hauls it out of the stud's underwear. And Van Rider is not disappointed. I guess with a name like Van Rider, he's quite happy that his top has a big cock to ride.
But before Sarpa gets fucked in the ass, he's got to show Marco how much he wants his dick. And he does. Down on his knees, Sarpa gets Marco's hard-on slippery and wet; then lying back on the bed, Sarpa gets Marco sliding his bone across his plump lips. I got so turned on watching how much this blond lad is enjoying Marco's dick. It's a hot substitute for my own fantasy.