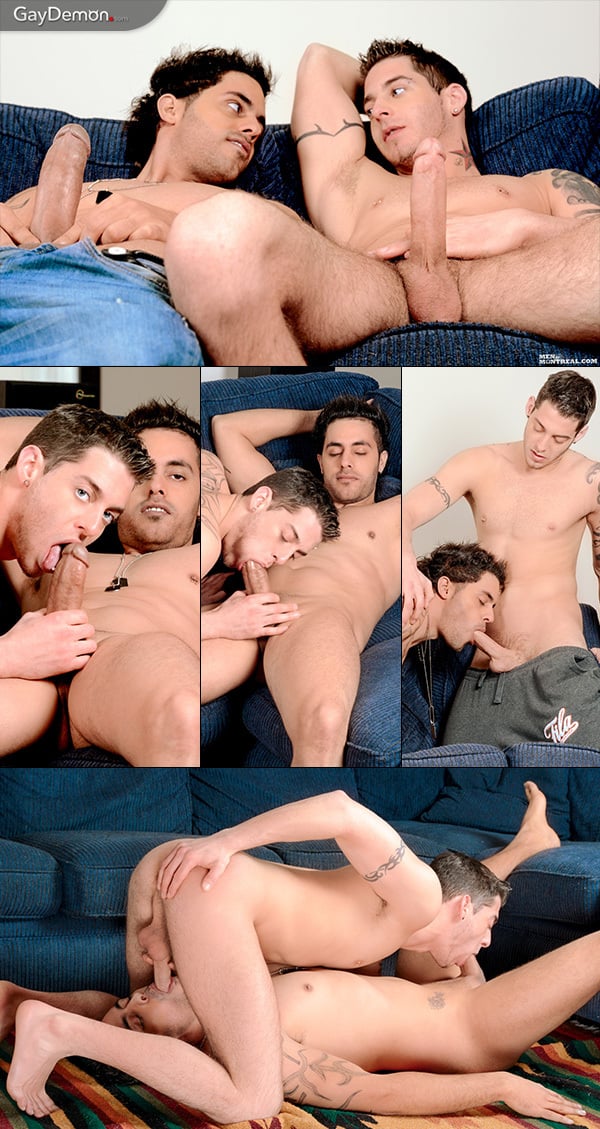 Ben Rose and Lorenzo Star are a couple of brave guys. Over at Men of Montreal they were out taking a walk in a park and getting some casual shots for their flip flop fucking video together. The guys were a little frisky and Lorenzo pulled out Ben's cock and started blowing him right on the bench. Forget about the people that were walking not too far away, but this is Quebec in winter, and it can get downright cold, Lorenzo could have ended up stuck frozen on Ben's hard-on. Now that would have been a 911 call to witness.
The cold did get the better of these two horny Quebecois guys and they head inside to film their scene together. And this is the first time that Men of Montreal has filmed to cut guys together. Quebec is a haven for foreskin and uncut guys, and most of the guys on the site are hooded, so this is fairly unique
The guys get into some kissing, dick sucking, and even 69 oral action. Then Lorenzo pushes Ben's legs in the air and stuffs his erection deep inside his hunky buddy's butt. And after getting his ass drilled, Lorenzo gets his ass pounded, and these horny French studs blow their cum loads all over each other. Perfect way to heat up a cold Montreal winter's day.