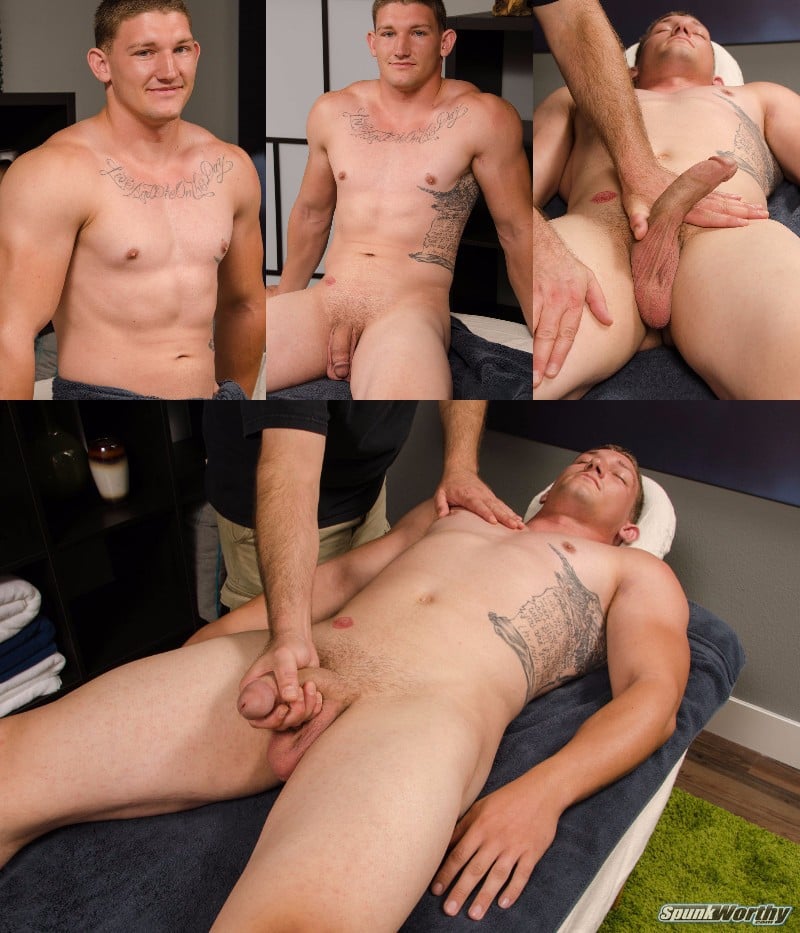 ---
Scene Pictures
Watch Avery Getting his First Handjob from a Guy
Like a lot of straight military guys, Avery is intrigued by the money he could make unloading his nuts for the cameras. What guy doesn't like getting paid for doing something he does every day? But Spunkworthy also likes pushing these guys, so Avery has been conflicted about earning a lot of extra money by letting a guy give him a handjob. In the end, the lure of a wad of cash was too tempting.
I don't normally complain about a guy's tattoos, and I usually want to slap people who do -- if you don't like them, move on. But I am willing to concede that a tattoo of Christ's head, complete with the crown of thrones, probably isn't something I'd like to see on a guy's back. And if I were fucking said guy, such a tattoo would very likely be a boner killer. Thankfully, the chance of me staring down at a guy's back are slim.
But the boy does has a hot ass and a nice pair of thick thighs, so you take the good with the bad, right? And it looks like he keeps his hole shaved, which I guess isn't odd for a straight guy who also trims his pubes down to nothing. Avery has a big pair of low hangers -- I love seeing these things lying in a heap between his legs -- and his cock thickens and stiffens while he's face down. On his back, and after a couple of tugs, and his dick is hard. He doesn't make a lot of fuss when he's ready to cum. Jason is stroking with a steady pace and Avery simply says, "OK" and his dick starts squirting.