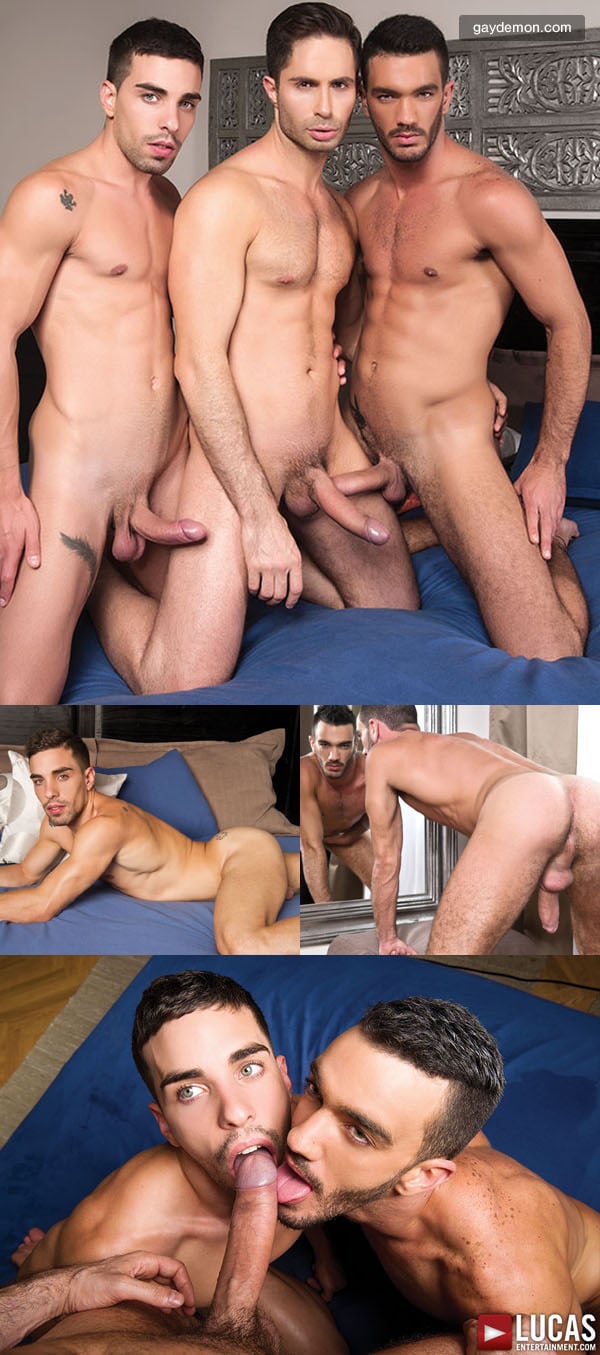 You just have to hand it to Lucas Entertainment - these guys know how to please! This scene is absolutely amazing - hot - bareback - raunchy - romantic - sexy - all rolled into one, one butthole that is! Cause Josh Milk gets to take both Michael Lucas's AND Alejandro Alvarez's cocks - both at the same time - and bareback too!
Apparently both Alejandro Alvarez and Josh Milk have been asking for a while to film a scene with Michael Lucas, and this, combined with Josh's desire to get his butt fucked raw by two cocks at the same time, resulted in the production team at Lucas Entertainment working some scheduling magic to make sure it happened!
Things start off with both Josh and Alejandro taking their sweet time pleasuring Michael's monster uncut cock with their mouths and tongues. They lick it, suck on it, toy with each other's tongues while pleasuring Michael's shaft and cock head - some really great oral action here. There is even some hot foreskin play, fingering around the head, under the foreskin, licking deep into the piss slit, really getting Michael's cock ready for the main event.
Then Michael and Alejandro take turns tonguing and rimming Josh's arsehole, getting it really slick, wet and totally relaxed - cause it's gonna need to be - as he's about to get his wish - two huge raw cocks - in his butthole - both at the SAME TIME! Alejandro lies down on the bed on his back, then Josh sits his arse down on that big fat uncut cock sticking up under him - he manages to takes all in - then Michael approaches from behind and somehow slides his monster deep into the same hole - amazing to watch, must be amazing to experience too! Then to top it all off, the scene finishes with some truly spectacular cum shots, the first when Josh cums into Alejandro's mouth while Michael is still fucking his hole, and the second when Michael cums all over Josh's face - OMG, I am spent, and utterly exhausted just from watching the preview!
See more at Lucas Entertainment