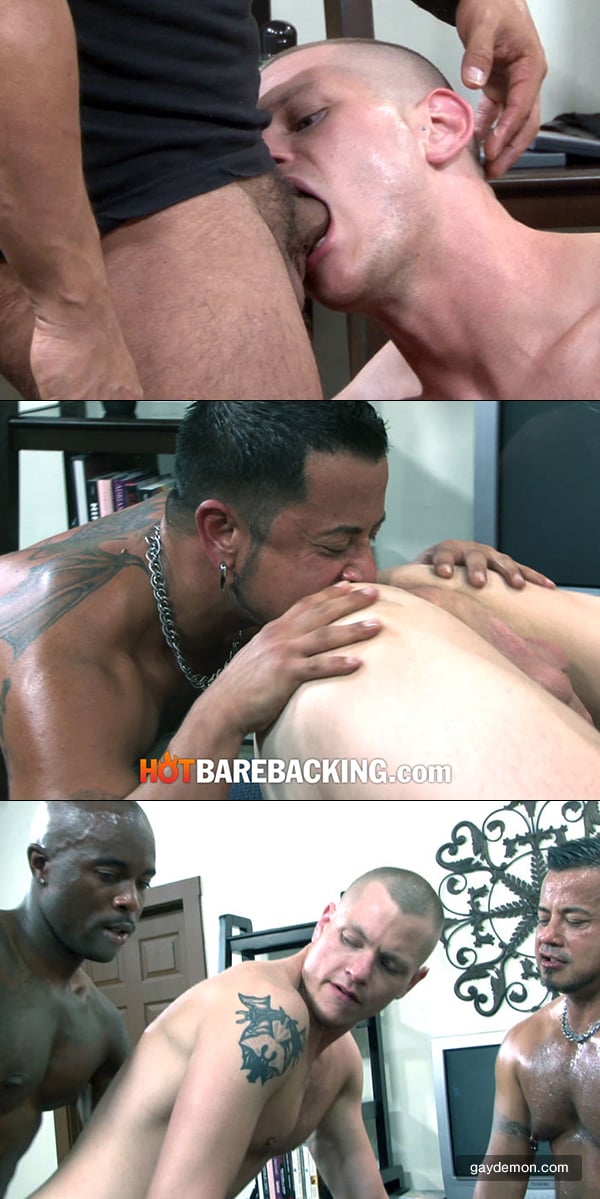 Cum whore Blue Bailey has been on a mission over at Hot Barebacking, he's gotten his butt stuffed in seven videos over the past few weeks, and this threeway makes number eight. When this video opens Bailey's lying across the bed with his head hanging over the edge; he's getting skull fucked by beefy hunk Kaizen Ono.
I'm already pretty turned on by this pairing. Ono is a nipple-pierced top hunk with a well-built body and a thick, meaty cock. He gets his bone polished, eats Bailey's ass, then stuffs his bare cock inside Bailey's very pretty butt hole. What's not to like?
But after pounding Bailey hard and silly, Ono needs a break, so Bailey twirls around to the other isde of the bed and black top Sin Santion enters to finish him off. While Ono has the girth for a good stuffing, Santion's dick is long, so it's hitting the deeper spots. Ono kneels beside the two, he's drenched in sweat with a dirty grin smeared across his face, and he's watching this long black tool dicking Bailey's hole. Santion is oblivious that he's putting on a show and just keeps pumping until he's ready to unload.