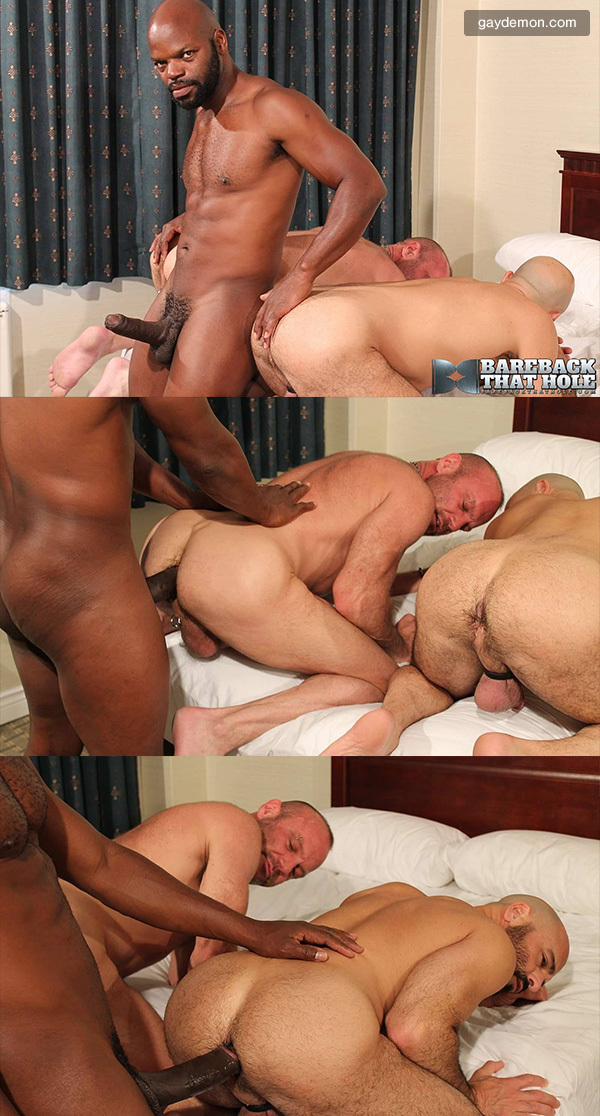 I imagine watching another man taking your partner's 11-inch monster cock would be a thrill, you know, seeing things from another perspective. Adam Russo gets some good close-up viewing as boyfriend Cutler X stuffs his dick in Chad Brock's ass in this new Bareback That Hole video. I don't know if they're still boyfriends, but they were when this video was filmed in Toronto during Pride week.
As Chad rides Cutler's bone, Adam's right there watching his buddy gently bounce on his lover's huge dick. Then in another sequence, Chad is on top of Adam doing 69 while Cutler squats over them and slides in and out of Chad's hole. And when Cutler spunks inside Chad, he shoves his cummy dick in Adam's mouth for a final clean-up. Hot!
But my favourite part of this video was seeing Adam and Chad down on all fours, side by side, while Cutler chowed down on one hole, then the other. He fucks them both going back and forth with each turning their head to watch the other getting boned. Two bald, hairy men in a friendly competition for one giant black dick, what could be hotter?
See more at Bareback That Hole