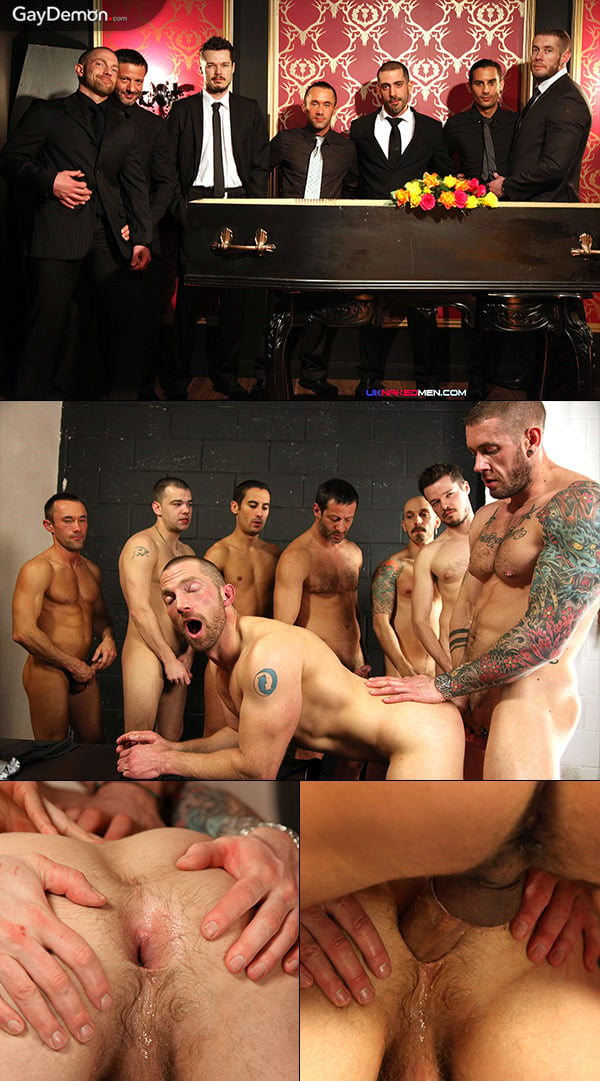 Nine men have come together to pay their respects at the funeral of a mutual friend at UK Naked Men. They've all had sex with the deceased, JP, some were fuck buddies, others lovers. But all of them have one thing in common: they've all heard about Adam, JP's favourite lover and fuck. Adam Dacre, Antonio Garcia, Caleb Ramble, David Ken, Harley Everett, Matt Brookes, Michel Rudin, and Valentin Alsina file into the funeral parlour, then standing around the casket they all secretly wonder which one of them is Adam. Finally, Adam Herst runs saying, "Sorry I'm late, I'm Adam."
The men are stuck waiting for the funeral to begin, there's been a delay and they have two hours to kill. "What the fuck are we going to do for two hours," Harley Everett says. "What would JP have wanted us to do?" Adam Herst asks. What better way to honour their friend than with a gang bang right there in the funeral parlour?
The men get busy groping each other then the suits come off, the dicks come out, and the cocksuckers get down on their knees. Finally sexy bearded hunk Adam Herst offers his beefy ass to these eight pall bearers. And they begin paying their horny respects to their buddy. Inked bodybuilder Harley Everett is first in line to screw Adam's ass. The other men line up and watch Everett pound open this bottom's ass, all the while stroking their dicks and getting them hard for their own turn. And when they've all had a crack fucking his ass, these eight men hose Adam Herst down with their cum loads.